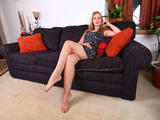 Dim DomPhoto believes that life is too short not to indulge in the things we find beautiful, and if you have an appreciation for beautiful women and their feet, this is the place for you.

We promise high quality images and video that feature top models modeling their legs, soles and toes with point of view angles that put you up close and personal.

Dim DomPhoto prides itself on providing the true foot and leg model connoisseur with enjoyable foot and leg art all year round.